WEBSITE UNDER CONSTRUCTION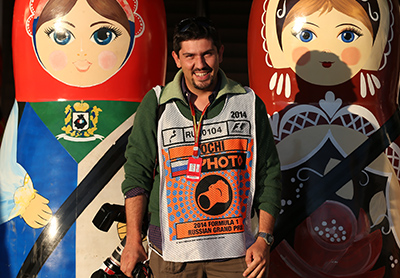 Gino Allegritti e' nato a Roma nel 1980 Da sempre appassionato di auto lavora in pista dal 2004. Dal 2005 collabora con Photo4 agenzia per la quale ha seguito importanti eventi internazionali quali GP e test di F1, GP2, 24 Ore di Le mans, Fia GT, Fia WTCC, Blancpain Endurance Series, saloni internazionali dell'auto e campionati nazionali. E' Accreditato con pass permanente in F1 dal 2013. A suo nome ha pubblicato: sull'Annuario Ferrari 2008, su Autosprint (tra cui la copertina del num 5/2009), "Il Tempo", "Il Messaggero", "Il corriere dello Sport", "La gazzetta dello sport", "Corriere Motori", "ZR zona Rossa", "Roadbook", "SportAutoMoto", "Motor", "Il Giornale di Rieti". E' Pubblicista e fotografo Canon Professional ed è iscritto all'Albo dei Giornalisti Pubblicisti.




Gino Allegritti was born in Rome in 1980. He works in motorsport since 2004. In 2005 he started a collaboration with the italian motorsport leading agency Photo4 working in Formula 1 (Gp and Test), Gp2, 24 Heures du Mans, Fia Gt, Fia WTCC, International auto Shows and various Italian championships. F1 All Season pass since 2013 With Photo4 he is publishing in many international Newspaper and with his name he publishing in a lot of italian magazine and newspaper and in particular: Autosprint (main cover of number 5/2009), Corriere Motori (Corriere della Sera), Il Corriere dello Sport, La gazzetta dello sport and many others. He published also in "Annuario Ferrari 2008". He is is registred in italian jurnalist order..


Contacts: E-mail: info@fastclick.it
Mobile Phone: +39 328 46 36 191
Fastclick - Gino Allegritti P. I.v.a. 08589551004 - Villa San Lorenzo a Flaviano - 02012 Amatrice (RI)